Highland Council publishes gritting maps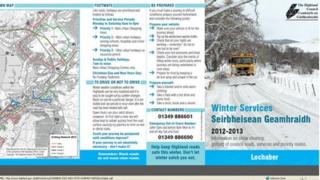 Maps showing which roads in a local authority's area get priority for snow clearing and gritting have been published online.
Highland Council has uploaded eight maps to its website as part of its new winter maintenance effort.
The council has responsibility for the longest non-trunk road network in Scotland, about 4,189 miles (6,740km).
Its routes fall into one of four priorities depending on how important they are to local communities.
Priority one routes are covered from 06:00 to 21:00 Monday to Saturday. On Sundays and public holidays the cover is from 07:00 to 21:00.
Those classed as priority four roads are cleared and gritted when resources are available, with the most difficult and steep routes treated before the rest.
Maps have been produced for North Sutherland and Caithness; South Sutherland and Easter Ross; Skye and Lochalsh; Wester Ross and Black Isle; Lochaber; Badenoch and Strathspey; Inverness and also Nairn.