Rescuers to return to scene of US jet crash on Skye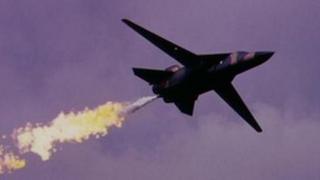 Men involved in the search for survivors of a US military jet crash 30 years ago are planning to return to the site of the fatal accident.
Maj Burnley Rudiger, 37, and Lt Steven Pitt, 28, died when their F111 fighter bomber went into Sgurr na Stri, a small hill on Skye, on 7 December 1982.
Weather permitting, a group of six hope to walk to the crash site later this week where they will lay poppies.
Most of the them were involved in the search and recovery operation.
They include former RAF Kinloss Mountain Rescue Team members Allan Tait, Ian Kelly and David "Heavy" Whalley.
The group hope to avoid having to make a three day trek to and from Sgurr na Stri by travelling into Loch Coruisk by boat on Friday, allowing them to make a shorter trip to the hill.
Relatives of the US air crew have given their blessing to the venture.
Pilot Maj Rudiger, from Norfolk, Virginia, and weapons systems operator Lt Pitt, of East Aurora, New York, were on a training flight from RAF Lakenheath in Suffolk in the F111, an all-weather fighter bomber capable of supersonic speeds. The type of aircraft was flown by the US Air Force until the late 1990s.
A shock wave from the explosion almost destroyed a bothy at Camusunary where three climbers were spending the night.
The jet was not armed, but aviation fuel caused a fire to rage for a time on Sgurr na Stri.
Paul Rosher, one of the three climbers in the bothy and now a member of Skye Mountain Rescue Team, will also join the expedition.
Members of RAF Kinloss and Skye mountain rescue teams were tasked with finding the crewmen and securing the crash site.
The RAF rescue team was picked up from their air force base at Kinloss in Moray by a Sea King helicopter from nearby Lossiemouth.
Mr Whalley said heavy snow made flying conditions difficult and the helicopter crew navigated by following roads.
They were forced to land briefly at Achnasheen to shelter from worsening conditions, before taking to the air again.
Bad weather continued over Skye and the helicopter crew narrowly avoid colliding with electricity cables.
But Mr Whalley and the others were hopeful of finding the American airmen alive.
The two crew of F111s sat side-by-side in a cockpit module that acted like an emergency escape vehicle.
In an emergency, the module would eject from the aircraft and float down by parachute. It was designed to provide a survival shelter on land, or water.
Mr Whalley said: "A few months previously we had been to another F111 that crashed in Strathcarron and the crew were okay. They had ejected in the capsule that was unique to this aircraft and both were taken to hospital in nearby Inverness.
"We were sure that the crew of two would be waiting for our arrival somewhere on the mountain."
The rescue teams soon came across pieces of wreckage, including parts of the escape module, and remains of the crew.
Mr Whalley said: "Unfortunately it was fairly easy to decide that no-one had survived the crash. In moments like this life stands still."