Lorry drivers in Scottish speed campaign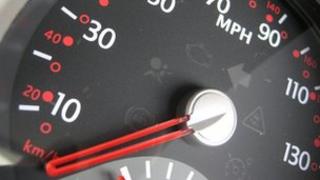 A campaign organised by a lorry driver from Inverness to increase speed limits for large heavy goods vehicles (HGVs) from 40 to 50mph has been launched.
Conor McKenna is urging his fellow drivers to rigidly stick to the 40mph limit on A class roads such as the A9.
The 28-year-old said the speed limit for single carriageways frustrated other motorists and led some to make dangerous overtaking manoeuvres.
The campaign will run until the end of the week.
Mr McKenna told BBC Scotland that a higher limit would allow traffic to flow better.
He added that modern tractor units were safer and, if necessary, could brake to a stop quicker than some cars.
The campaign has been backed by Highland Labour MSP David Stewart.
He said: "I have been a road safety campaigner for many years and, of course, speed is a problem.
"Too fast a speed is a problem with young drivers and a real worry, but on the other side of the coin too slow is also a road safety issue."
The UK government has started consulting on a proposal to raise the speed limit for larger lorries on single carriageways to 45mph or 50mph.
Roads minister Stephen Hammond said last month that less congestion and quicker journeys would help business.
But Julie Townsend, deputy chief executive of road safety charity Brake, said there was clear evidence of a direct link between traffic speed and road accidents.
The UK government's consultation on the change, which would affect about 280,000 vehicles, will run until 1 February.