Cairngorms beat Arizona for Batman aerial stunts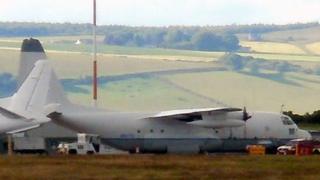 Scenes shot over the Highlands for Batman movie The Dark Knight Rises were to be filmed in the US, according to the film's special-effects supervisor.
Villain Bane's escape from one aircraft into another was a stunt performed high above the Cairngorms.
In an interview with Empire magazine, Chris Corbould said it was planned to shoot the scene over Arizona.
But he said director Christopher Nolan felt Arizona's desert landscape would be too familiar to audiences.
Instead, Nolan chose to film the aerial action scenes over the "more visually distinct" Scottish Highlands.
The Dark Knight Rises was released in cinemas in July.
Bane, played by English actor Tom Hardy, escapes from his CIA captors in the opening scenes of the movie, the third Batman film made by Nolan.
The action involved a C130 transport plane that was based at Inverness Airport for several weeks.
Stuntmen and a film crew also made parachute jumps over Cairngorm Gliding Club's airstrip at Feshie Bridge for the scenes.
The fuselage of a Jetstream aircraft that had belonged to bust Inverness-based airline Highland Airways plane was used to portray the interior of the CIA aircraft.
Highland Airways collapsed in 2010 with debts of £4.5m after a potential rescue deal fell through.