Moray Firth dolphins 'threatened' by unregulated cruises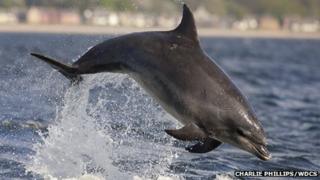 Boats "targeting" dolphin feeding areas pose a greater risk to the animals than larger ships passing through the same waters, new research has suggested.
The study examined the risk noise from vessels posed to bottlenose dolphins in the Moray Firth.
Unregulated wildlife cruises and leisure craft being taken into and spending time in foraging areas were deemed to have an adverse effect.
The research suggested noise from the craft could scare dolphins away.
Researchers also said female dolphins that were pregnant, or raising calves, were particularly vulnerable because they were less likely to get enough food to successfully raise their young.
Carried out by the University of Aberdeen and published by Scottish Natural Heritage, the study found feeding "hotspots" in the Highlands such as Chanonry Narrows, the mouth of the Cromarty Firth and the Kessock Channel were most sensitive to disturbance.
The threat to the dolphins was deemed to be greater in these areas than at Aberdeen Harbour, a busy port for the fishing and North Sea oil and gas industries.
Researchers said dolphins feeding near the harbour were less disturbed by passing vessels, which spent less time close to the animals.
The study was done to help guide decisions on marine licences and planning applications related to harbours.
The Moray Firth and North Sea provides habitat for the world's most northerly resident population of bottlenose dolphins.
Research published in May suggested the population was "stable" with almost 200 animals.
The species is protected by European Union rules.