Game sector male dominated and ageing, SNH study says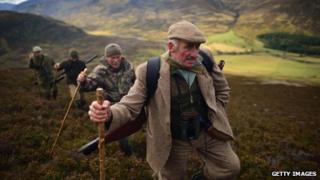 Scotland's game and wildlife management sector has a male dominated, ageing workforce, according to new research.
The study commissioned by Scottish Natural Heritage (SNH) suggested 97.6% of gamekeepers, deer managers and stalkers were men.
It also reported that 75.8% of the workforce were aged 45 and over.
Researchers concluded that older workers were a resource of "lifetime learnt" skills, but efforts should be made to encourage new entrants.
They suggested that the sector should be promoted among women, young people and people considering a career change.
Lantra, which was commissioned to carry out the study, said women were increasingly taking up employment in deer management. However, the numbers of women entering was described as a "trickle".
'Extremely proud'
The research suggested that 82.4% of the sector's total workforce were based in Scotland - with many living in central Scotland - with the remainder travelling from England to work on Scottish estates.
The study also found that 39.4% worked part-time, 29.2% were self employed and 31.4% worked full-time.
Almost all respondents to Lantra's study said they had relevant qualifications and many described their field craft skills as "second to none".
The researchers said they found the workers to be "extremely proud" and passionate about their work.
But some respondents said they felt their jobs needed to be better understood by the public and tasks that involved using powerful rifles and wearing camouflage was viewed as "terrorist activity" by some.