Northern Constabulary issues new handcuff advice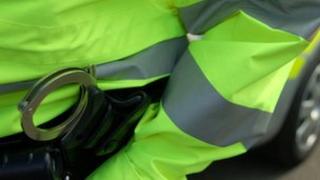 Northern Constabulary has amended its guidance to officers on their use of handcuffs when detaining people.
The force said the restraints were to be used in a considered way and not in a "blanket fashion".
The guidance follows a complaint against the force from a man who said his wrists were injured when he was handcuffed while being detained.
The Police Complaints Commissioner for Scotland (PCCS) said the use of the restraints had been unreasonable.
In a report published in June, commissioner John McNeill said the man was handcuffed as routine procedure, rather than based on any risk he posed.
He recommended that Northern Constabulary made sure its use of handcuffs was consistent with the Scottish Police Service Students' training manual.
In a report to the Northern Joint Police Board's meeting on Thursday, Chief Constable George Graham confirmed the force had taken action.
Mr Graham said: "The amended guidance has been issued and now makes it clear to officers that the use of handcuffs is a form of physical force as a means of restraint.
"The direction to use handcuffs is not given in blanket fashion, but needs consideration of the individual circumstances giving rise to the need to use such force."