Public asked to help trace basking shark's tag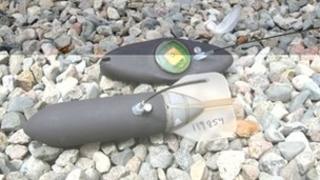 The public is being asked to help trace a tag that had been attached to a basking shark off Skye.
The tag's battery has run out and is no longer giving out a signal, but it is not known if it is still on the shark or has become detached.
The object last gave out a signal at the Neist Point area of Glendale, and police said it was likely to have been washed up on the shore nearby.
There is a reward for the return of the tag, which contains valuable data.
Northern Constabulary said it was baton-shaped, 15cm long, made of black rubber and may have an antennae attached.