Battle of Culloden report sold at auction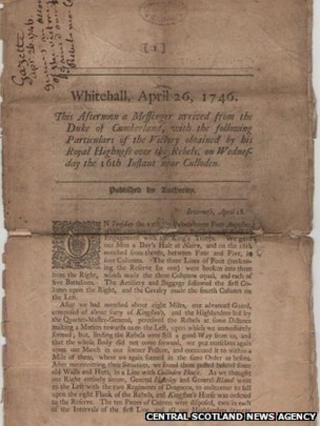 An account of the 1746 Battle of Culloden printed just days after has been sold for £800 at an auction of historic papers in Ludow, Shropshire.
Culloden saw government forces led by the Duke of Cumberland defeat fighters loyal to Bonnie Prince Charlie.
The account was written on Cumberland's behalf and was printed in London. Copies were sold on the city's streets for sixpence.
The paper had been expected to sell for £300 at the Mullock's auction.
It was sold to an anonymous telephone bidder.
A builder had found the paper in his loft and believed it had been there for several years after being bought at a car boot sale.
Richard Westwood-Brookes, of Mullock's, said: "That's what happens sometimes, people don't realise what they have got."
He added: "There was a lot of interest in this item.
"It's a very rare document - the official first hand account of the Battle of Culloden, sent back to the government by Cumberland.
"The chances of it surviving until now were remote. I've never seen one before."