'Parcel summit' to improve Scottish deliveries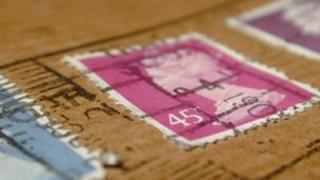 A "parcel summit" has been held to discuss ways of improving parcel delivery services in Scotland.
Enterprise Minister Fergus Ewing chaired the meeting in Inverness with delivery services and retail bosses.
The talks follow research by Consumer Focus Scotland that suggested people living in Scotland paid high prices for poor services.
The summit looked at charges and whether delivery office and collection point opening hours need to be changed.
The Scottish government said the discussions were the first of their kind in Scotland.
It also comes amid one of the busiest times for delivery services with thousands of Christmas gifts being purchased and sent.
Before the meeting, Mr Ewing said: "We would encourage delivery companies to display costs clearly prior to sale and to make sure that charges are based on costs incurred.
"This is particularly important in the run-up to the festive season when many people in rural Scotland order goods online and expect them to be delivered in time for Christmas Day.
"It also makes business sense for retailers to provide the best and most efficient service possible."
Consumer Focus Scotland published its research in August.
The watchdog said many Scots were being penalised by high charges and poor service when it came to parcel delivery.
Those living in rural areas had the most difficulty receiving parcels. According to the study, they often faced high postage fees or some companies who refused to deliver.
The watchdog also highlighted problems with inconvenient opening hours at local delivery offices. It called for an overhaul of parcel services.
Remote areas
It carried out an online survey of consumers, held focus groups and spoke to parcel delivery operators.
The findings highlighted demand for more varied collection points, nominated delivery times and the use of Smartphone technology to track parcels.
More than half of households who took part said they would like to see nominated times for deliveries, and deliveries in the evening.
Separately, Highland Council has been campaigning for fairer delivery charges for goods ordered over the internet.
Last year, it asked people and businesses in remote and rural areas for examples of fees higher than the rest of the UK.
Since the call went out, the council said 20 internet trading companies had altered their charges.
Highland trading standards officers had been investigating the costs.
In November last year, officers said people in remote areas were paying "expensive" delivery costs.