Bad weather makes 2012 'desperately difficult' for farmers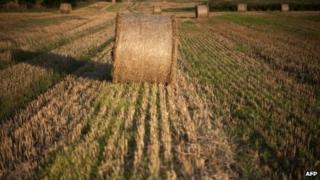 Bad weather made 2012 "desperately difficult" for farmers, according to the the National Farmers' Union of Scotland (NFUS).
A survey of members suggested one in 10 arable farmers had 50% or more of their cereal or maize crops still to harvest.
Those managing livestock have told of having to move stock into cattle courts earlier than usual, and having to pay more for feed and straw for bedding.
NFUS president Nigel Miller said rain had been "relentless" this year.
He said farmers would be seeking prompt payments from the Scottish government of the Single Farm Payment in December and Less Favoured Areas support in March.
Mr Miller added that the government did have a good track record on doing this.
NFUS has also been working with the Scottish Environment Protection Agency (Sepa) on tackling difficulties spreading slurry during prolonged wet weather.
Some farmers have told the union of problems caused by a lack of dry weather to allow them to spread the cattle manure, in line with environmental protection rules.
Fears confirmed
New guidelines have been produced to try to alleviate the situation for farmers in non-nitrate vulnerable zones (NVZ), areas deemed to have a reduced risk of slurry affecting burns and rivers.
About 12% of Scottish farmland is in an NVZ and NFUS said it was looking to the government to allow for greater flexibility in the storing and spreading of slurry in these areas.
Mr Miller said the union's survey had confirmed fears about how bad 2012 was.
He said: "For those with crops, the relentless rain endured over many months have hammered crop yields and quality, driven significant costs into harvesting, left many crops still standing in the fields and winter seed in the shed unsown.
"All-in-all 2012 has been a desperately difficult and trying year for Scottish farmers."