Local policing 'will continue' in new single Scots force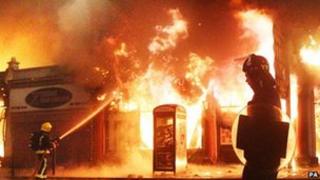 Community-style policing will continue in the new single Scottish police force structure, Northern Constabulary's chief constable has said.
George Graham said he was also confident that this approach would survive in an increasingly challenging financial climate.
Northern covers the Highlands, Western Isles and Northern Isles.
The senior officer has made his comments in the latest edition of the force's magazine, Northern Light.
Mr Graham said Northern Constabulary had started preparations for the transition to a single force.
The new Police Service of Scotland will start on 1 April 2013.
Mr Graham said he has had talks with the single force's chief constable, Stephen House.
He said: "From our initial discussions, I am confident that, although the financial climate will become increasingly challenging, our style of community policing will continue and the new divisional structure will support the continuation of local policing and working with communities in the Highlands and Islands."
Northern Constabulary has one of the highest crime detection rates in the UK and the force puts this down to its community-style policing.
'Genuinely surprised'
A former police constable at Northern said this approach had helped the Scottish force in assisting the Metropolitan Police during last summer's riots and looting.
PC Alison Millar, who now serves with Grampian Police, told Northern Light: "The style of policing of my new Metropolitan colleagues was in sharp contrast to my own day-to-day approach.
"Members of the public seemed genuinely surprised by the chatty, personable approach taken by myself and Scottish colleagues.
"Obviously, there is an entirely different challenge facing officers in the urban environment of Central London to that of the generally rural areas of Northern."
She said: "However I believe that the central focus of 'Excellence in Community Policing' at the heart of Northern Constabulary begins with the simple act of communicating with members of the public.
"Time and time again, whilst on foot patrols around the city centre areas people visibly responded positively to a simple 'hello'."