Hebrides have barrier islands similar to Jersey Shore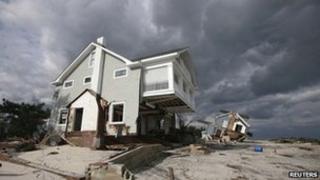 Beaches in parts of the Western Isles are an unusual type of island similar to those found off the US east coast, scientists have said.
A study involving the universities of Aberdeen, Dundee, St Andrews and Ulster has identified areas of the Uists and Benbecula as barrier islands.
In the US, the long strips of sand separated from the mainland by sea form Jersey Shore.
The barrier islands were badly hit by Hurricane Sandy last month.
Scientists involved in the Western Isles study said some beaches and also flat, coastal flower meadows called machair were of a similar geography to the US islands.
Jersey Shore draws holiday-makers and is the setting for an MTV reality TV series.
Barrier islands survive by rolling landwards as sea levels rise and storms buffet the coast.
Rather than being lost offshore, the scientists said the sand was conserved and pushed landwards, raising the surface of the islands.
'True nature'
Their research has been published in international journal Geology.
Prof Andrew Cooper, of the University of Ulster, said: "In the Western Isles we have discovered a whole new chain of barrier islands very close to home.
"They've been there all the time, but we had not previously recognised their true nature."
Prof Cooper said the shape of the islands in the Western Isles were less obvious than those found on the east coast of the US.
The bodies of water separating the Scottish barrier islands from nearby land tended to be much shallower and the tidal inlets were smaller.
Prof Cooper said: "It's an unusual setting in which to find barrier islands. Normally, you find them on low lying coastal plains, not storm-battered rocky coastlines at nearly 60 degrees north.
"It is a very unusual set of circumstances that allows them to exist in the west of Scotland."
Prof Cooper warned that sea defences built to halt coastal erosion threatened natural processes on the barrier islands.
He said: "Ironically, by stopping the sand from moving, being flexible, we are destroying the coastal environment.
"We think that by holding the sand in one place we are protecting the machair, but we're not."