Universities to study far north peat bog restoration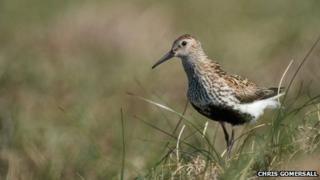 Three universities are studying the effects of removing forestry from parts of the Flow Country and allowing the land to return to blanket bog.
RSPB Scotland cleared plantations as part of its restoration of deep peat on its Forsinard reserve in the far north.
Birds such as golden plover, dunlin and short-eared owl have benefited from the work, according to the RSPB.
St Andrews, Stirling and Highlands and Islands universities are making the detailed study of the effects.
RSPB Scotland and the Scottish government are funding the research.
Reserve manager Norrie Russell said restoring blanket bog at Forsinard was a top priority for the charity.
He added: "The recognition that these sensitive deep peat areas contain the largest land-based carbon store in the UK, and are also extremely important to the quality of our salmon rivers, has led to Scottish government supporting this restoration work and research."
Dr Roxane Andersen, of the Environmental Research Institute UHI, said the project would quantify the impact of forest-to-bog conversions on the ecosystem at Forsinard in a scientifically rigorous way.
University of St Andrews' Dr Yit Arn Teh added: "The bulk of peatland research efforts in the UK have so far focussed on ecosystems in northern England and Wales; far less is known about northern Scottish peatlands."