Scientific review of Sound of Barra conservation plan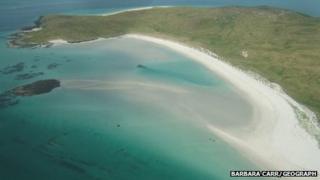 An independent review will examine the scientific case for a proposed special area of conservation (SAC) in the Sound of Barra in the Western Isles.
Scottish Natural Heritage (SNH) said the designation was needed to protect rare and fragile marine life, a move supported by Conservationists.
But fishermen and Rory MacNeil, chief of Clan MacNeil of Barra, fear SAC status will restrict fishing.
The Scottish government said the review would guide its decision on the plan.
The Scottish Wildlife Trust has backed the idea of making the Sound of Barra a special area of conservation (SAC), describing it as one of "Scotland's wildlife jewels".
It said the area's sandbanks, reefs and harbour seal habitats need greater protection.
There are 40 existing marine SACs in Scotland.
Parliament protest
The proposal to add the sound to the list has met with strong opposition from island fishermen.
In February, people from Barra held a protest outside the Scottish Parliament.
Clan chief Mr MacNeil also accused government ministers and SNH of ignoring local concerns. He said islanders had worked with the environment for hundreds of years.
Environment Minister Paul Wheelhouse said an independent review would help him to make a "fully informed" decision based on "sound science".
He said: "Sound of Barra is home to important colonies of common seals as well as reefs and sandbanks that support many species, that's why we are considering taking steps to designate the area as a special area of conservation.
"However, the proposed SAC has resulted in a wide range of views, some of which take issue with the scientific assessments carried out.
"So that I have a complete picture on which to base my decision, I've asked for an independent review of the scientific case to be completed."
Comhairle nan Eilean Siar has welcomed the government's decision.
The council's leader Angus Campbell said: "This is a step in the right direction.
"The local community are united in their opposition to any further designations which will damage current and future economic prospects in the islands.
"The comhairle and others has not been convinced of the robustness of the scientific case and welcomes an independent review."