Loch Torridon 'rich' in burrowing fish and maerl seaweed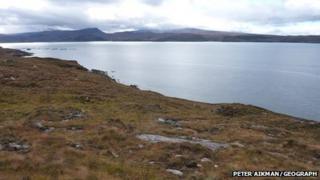 A scientific survey of a sea loch in the Highlands has found it to be "rich" in marine life, according to a newly-published report.
High densities of burrowing fish called snakeblenny and Frie's goby were recorded in Loch Torridon in Wester Ross.
The Scottish Natural Heritage-commissioned survey also detected a "rich bed" of maerl seaweed.
The hard, spiky beds of seaweed provide habitat for scallops.
Broken pieces of sun-bleached maerl also form white beaches along some of the west coast of Scotland.
The richest bed of the seaweed was found at the mouth of Loch Torridon.