Historic signal boxes across Scotland surveyed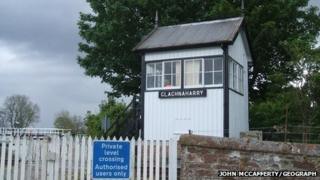 A review of historic railway signal boxes is being carried out in Scotland.
Modernisation of signalling systems will see 80% of old style mechanical boxes in the UK taken out of use over the next 10 to 15 years.
Historic Scotland and rail operator Network Rail said the survey would ensure the best examples in Scotland were preserved and protected.
Boxes dating from the 1800s through to the end of World War II survive, with some still in use.
Historic Scotland said examples included a rare stone-built box at Aberdour in Fife and a box at Biggar, South Lanarkshire, that is thought to be one of only three known surviving examples of a Caledonian Railway Company box.
Other boxes of interest to the public body include two timber-built McKenzie & Holland boxes at Nairn from 1891, and one built in 1890 at Clachnaharry, Inverness.