Butt of Lewis Lighthouse anniversary marked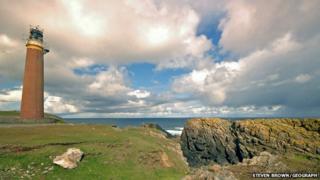 The 150th anniversary of the Butt of Lewis Lighthouse in the Western Isles is being celebrated this month.
Engineer David Stevenson led the construction of the lighthouse in 1862 and in the early days its light was fuelled by vegetable or fish oils.
From the 1930s to 1971, the station had a radio link with keepers operating the isolated Flannan Isle Lighthouse.
Flannan became famous following the mysterious disappearance of three keepers in December 1900.
The Butt of Lewis Lighthouse was automated on 30 March 1998 and is now remotely monitored from the Northern Lighthouse Board's headquarters in Edinburgh.
Local historian Donald MacKenzie said a lighthouse being built on rugged northerly headland of Lewis had made perfect sense.
He said: "If you look north you have got open water all the way to the Arctic and to the left you are looking westwards to the Newfoundland coast of Canada.
"It is the absolutely perfect spot to have a lighthouse probing the dark North Atlantic skies."