Charles Kennedy criticises Applecross Trust decision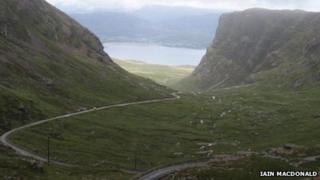 A Highland MP has criticised a trust owning thousands of acres of land in Wester Ross for not opening up its membership to the wider public.
The Applecross Trust is run by six landowners who do not live on the 61,000 acres (24,685ha) they own.
On Tuesday, the trust said it had "respectfully refused" applications from land reform campaigners, politicians and members of the public.
MP Charles Kennedy said the move was to give locals a say on managing the area.
In a letter to the trust, he said: "Many of those applying, including myself, have only the best interests of Applecross and its people in mind, and a greater connection to the peninsula than many of the trustees.
"I believe that the interests of local communities are best served by locals having a say in the management and running of their area."
Mr Kennedy acknowledged that the trust had consulted the local community when the applications were submitted, but he said there were few details on what was agreed between the trust and community.
In September, campaign group Land Action Scotland encouraged people to submit applications for membership to the trust.
The group said that if successful, the move would place the estate in community control.
'Back door'
In a statement on Tuesday, trust said it had refused the applications.
Later in an interview with BBC Radio Scotland, trust administrator Archie MacLellan said: "The trustees are all people who have had very long connections with Applecross, and are familiar with Applecross and the way it works.
"The people who have applied, on the face of it, don't appear to have any connection, or a particular connection, with Applecross.
"It is a campaign with political basis which has no real interest, or care, for Applecross as such. It is more of a land reform package by the back door."
Andy Wightman, of Land Action Scotland, described the community of Applecross as fragile and vulnerable.
He said: "It needs substantial investment. It needs more people living there and needs to increase the school roll.
"As long as this vast area of land is owned by a tiny number of people who don't even live there and come to visit to do a bit of shooting, I don't think the prospects are very good."