Community bids for Applecross Trust rejected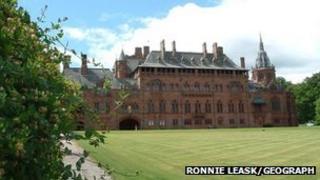 A trust that owns thousands of acres of land in Wester Ross has rejected campaigners' bids for membership of the organisation.
Land Action Scotland had sought membership of the Applecross Trust.
The campaign group said that if successful, the move would place 61,000 acres (24,685ha) of the Applecross peninsula into community control.
In a statement, the trust said it had "respectfully refused" the applications.
Land Action Scotland sought membership of Applecross Trust and Mount Stuart Trust, which owns 28,000 acres (11,331ha) on the Isle of Bute, in September.
More than 90 applications for membership rights have been delivered to the Registered Offices of the Companies in Edinburgh requesting membership rights to the two trusts.
Andy Wightman, co-ordinator of the new campaign, said the aim was to democratise companies that were run by a handful of people who did not live on the land involved.
At the time the Mount Stuart Trust said it would consider the membership applications, but added its regret that the good work it had done in the area had not been recognised.
Public benefit
In the newly-released statement, the Applecross Trust said it was concerned the campaign was politically motivated.
Administrator Archie MacLellan said the trust was proud of its many years of community engagement.
He added: "The trust has respectfully refused the applications and looks forward to continue working with the local community, as we have always done, to deliver enduring and meaningful public benefit to Applecross which is the core objective of this trust."
Landowners organisation Scottish Land & Estates has supported the decision.
Chairman Luke Borwick said: "The clear message from the Applecross community has been that they did not welcome the Land Action Scotland campaign to gain control of a trust that has over the years dedicated itself to delivering benefits to the Applecross peninsula and its residents."