Demolishing Jimmy Savile's Glencoe cottage suggested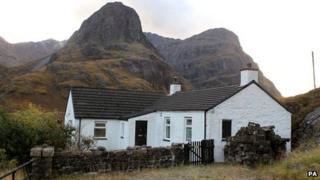 A councillor has suggested demolishing a house which belonged to disgraced TV presenter Jimmy Savile after it was vandalised for a third time.
Orange paint was sprayed onto exterior walls of the cottage at Allt Na Reigh in Glencoe over the weekend.
Last month, stones were thrown at the property before "Jimmy the beast" was later written on a wall.
Highland councillor Andrew Baxter said the local community might want the cottage to be pulled down.
It is thought Savile, who died last year aged 84, may have abused hundreds of young girls and some boys over a 40-year period.
The TV presenter and DJ, who was knighted in 1996, was a UK household name in the 1970s and 80s.
Savile bought the Glencoe cottage in 1998.
The cottage was to be sold earlier this year but the sale was halted by Savile's charitable trust, who announced plans to convert it into a respite centre for the disabled.
That plan has now been shelved after the charity announced it is to close down.
Mr Baxter told BBC Radio Scotland that the property sat in a prominent location in Glencoe, and there were growing concerns it had become the focus for the disgust people felt towards Savile.
He said: "There has been lots of talk of alternative uses such as a respite centre, or perhaps a mountain centre to get disabled people into our hills.
"But I feel rather uneasy about some of those options especially considering some of the revelations we have seen in recent weeks.
"If it was the opinion in the local community but to erase the memories of Savile in the glen then perhaps demolition is the only option."
Northern Constabulary said it was investigating the latest incident of vandalism.