Scottish airports firm Hial records operating loss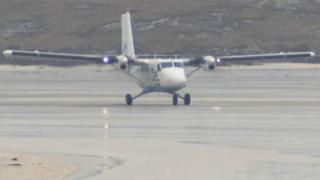 Scottish government-owned Highlands and Islands Airports Limited (Hial) has recorded an operating loss of £969,000, according to its 2011-12 annual report.
The company manages 11 airports at Barra, Benbecula, Campbeltown, Dundee, Inverness, Islay, Kirkwall, Stornoway, Sumburgh, Tiree and Wick.
Hial's operating loss was less than the £2.56m it recorded the previous year.
The company said a milder winter had helped, with it saving £1m on its snow and ice clearing operations.
Hial, which received £26.5m in government subsidies, said trading conditions over the past 12 months had been difficult.
However, the company said it was pleased to report an 8.7% increase in passenger numbers.
It also invested more than £8.3m on improvements to some of its sites. Runways at Dundee, Islay and Wick John O' Groats were upgraded.
Hial's chairman Grenville Johnston said the financial results had benefited from a "relatively benign" 2011-12 winter, after two previous challenging years.
He added: "Passenger numbers around the group rose by 8.7% over the prior year to 1,258,000.
"This was thanks, in part, to the new Amsterdam service at Inverness. Growth was enjoyed at most other stations but particularly at Stornoway and Sumburgh due to the continuing good work of our largest customer, Loganair.
"Unfortunately Dundee's passenger numbers fell by 14% to 60,000, reflecting challenging commercial conditions. Dundee competes with Edinburgh for many services."
Managing director Inglis Lyon said operating conditions were tough due to high oil prices and global credit issues.
He said: "The need for everyone to revisit their budgets and to re-balance the books has resulted in some challenging debates and these will continue through the short and into the medium term.
"However, the investment by the company in the new Inverness-Amsterdam route is an indication of the need to go out and create growth opportunities."