Repair work to Steall Gorge path in Lochaber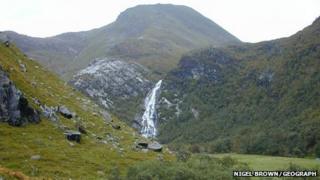 Repairs are being made to a footpath leading to one of Britain's highest waterfalls, An Steall Ban.
Landscape charity the John Muir Trust is leading the work on the Steall Gorge path, which runs through Glen Nevis in Lochaber.
A helicopter is expected to be used later this week to airlift 100 tonnes of stone to parts of the route.
The stone will be carried from a nearby boulder field over the course of two days.
Chris Goodman, the trust's footpath officer, said public donations had helped to cover the cost of the repairs.
He said: "The magnificent response to our appeal for funds shows how dearly people value this glorious trail, which winds its way through native woodland above the Water of Nevis to the beautiful Steall Meadow and the dramatic An Steall Ban waterfall."