Danny Alexander launches Ginger Rodent beer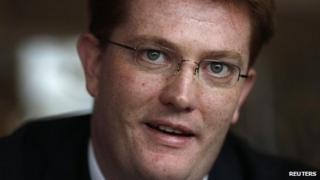 Chief Secretary to the Treasury Danny Alexander has helped to launch a new beer called Ginger Rodent, a nickname he was given by a political rival.
UK Labour's deputy leader Harriet Harman made the comment at the Scottish Labour conference in 2010. She later apologised.
The beer is made by Cairngorm Brewery in Mr Alexander's Inverness, Nairn, Badenoch and Strathspey constituency.
Mr Alexander said it tasted "very nice".
He added: "I'll take a couple of bottles down to Harriet Harman for her to savour."
Cairngorm Brewery's managing director Samantha Faircliff said Ginger Rodent was the 11th beer it now produced.
She said: "Full marks to Danny Alexander for joining in the fun. I don't know if he can get it into the bars in the House of Commons but it would be a nice addition."
Ms Harman made her ginger rodent comment in October 2010 during an attack on the Liberal Democrats for forming a coalition with the Conservatives.
Later, a spokeswoman said Ms Harman admitted the comment was wrong and she had apologised personally by telephone to Mr Alexander.
At the time Mr Alexander wrote on Twitter that he was "proud to be ginger".
He added that "rodents do valuable work cleaning up mess others leave behind".
The Liberal Democrat MP poked fun at the insult in his 2011 parliamentary Christmas card, which showed a red squirrel running around in snow.