Strathspey sisters set up fashion business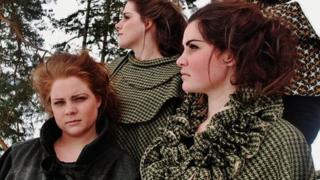 Three sisters who graduated from the same arts college are running their own fashion design company together.
Harriet, 27, Matilda, 26, and Jemima Kirkwood, 24, of Advie, in Strathspey, studied at Edinburgh College of Art's Performance Costume Department.
They have gone on to launch their own business, K'outure Ltd.
Harris Tweed Hebrides on Lewis, Johnston's of Elgin and Knockando Woolmill in Moray are sponsoring the sisters to develop designs.
Jemima said their training has had an important influence on their clothing.
She said: "Having been trained in performance costume we take the odd, weird and sometimes downright baffling from our costume design work and prune it back to reveal the everyday and wearable - with some theatrical flair.
"We feel that our costume background equips us with the scope and vision to see further than the ever changing trends of fashion - a challenge we relish every day."
The three women are the eldest of seven siblings - there are two more sisters and two brothers. Augusta, one of the younger sisters, helps to model the designs.