Scottish airports firm looks to Norway's winter tactics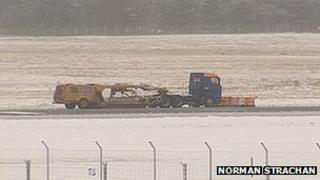 A company running 11 Scottish airports has looked to Norway for tips on keeping its runways open this winter.
Highlands and Islands Airports Limited (Hial) said the weather of recent UK winters had been Arctic-like.
It has spent £400,000 on snow clearing equipment and a new de-icer store at Inverness.
Bosses have borrowed techniques used at Norwegian airports to better handle conditions that may affect its sites across Scotland.
Hial manages Barra, Benbecula, Campbeltown, Dundee, Inverness, Islay, Kirkwall, Stornoway, Sumburgh, Tiree and Wick.
The Scottish government-owned company will use a forecasting tool provided by the Met Office to better predict weather conditions at Inverness, Stornoway, Wick John O'Groats, Kirkwall and Sumburgh.
Hial said: "The more accurate forecasting tool will improve the effectiveness of de-icing operations, reduce wastage and the overall cost of winter operations."
The company's chief fire officer, George Farquhar, said winter months were a challenge for Hial.
He said: "Our airports are spread over a vast geographical area, many of them in remote areas.
"Nevertheless, we have worked hard to ensure our teams are prepared for the worst extremes of winter and we have invested heavily in additional equipment and training, and new forecasting techniques in order to ensure airports continue to operate during severe weather."