Scalpay islanders vote in favour of takeover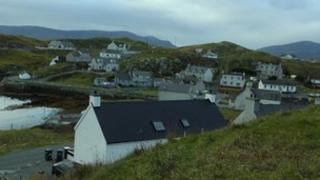 Residents on Scalpay, off Harris, have voted to take over the running of the island.
The current laird, English businessman Fred Taylor, had offered inhabitants the island for free.
After a vote count at Scalpay Community Hall on Tuesday evening it was a very clear result in favour of the take over - with 197 for and just eight against.
Islanders also voted to go into partnership with the North Harris Community Trust to run the island.
The island's population has fallen by half since the 1970s and 80s and its primary school closed in June after the roll fell to four.
Speaking before the votes were counted, Paul Finnegan, of Scalpay Community Land Buyout Steering Group, said there were plans for the school building.
He said: "One suggestion that has come forward is using it for business units for small craft workshops.
"We've already identified three people who live in Scalpay who are keen to take them on."