Inverness Christmas tree farm revealed as website 'scam'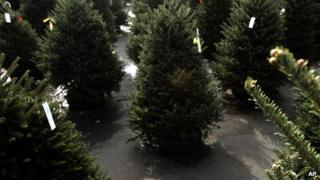 Trading standards officers at Highland Council are warning the public of an online Christmas tree sales scam.
They said a website, www.scottishwholesalexmastrees.com, was offering trees grown at the Inverness Tree Farm, near Aviemore.
The officers believe the website was set up in Utah, in the US, and displays a fictional farm and a VAT number stolen from a genuine Scottish firm.
A business in England had been about to place a £7,000 order with the website.
However, the order was not put through after the business's boss had concerns about the site.
'Don't buy'
Trading standards manager Gordon Robb said the website displayed an Inverness telephone number.
But he added: "With modern telephony services this number could be ported anywhere in the world.
"Potential buyers are being told that some of the trees are grown at a genuine Christmas tree farm north of Inverness.
"The VAT number being used is stolen from another genuine Christmas tree producer elsewhere in Scotland, who has verified that they have no connection with the questionable 'business' behind the website."
Mr Robb added: "The message is - 'if in doubt, don't buy' and if anyone has made any payment to immediately to contact their bank for assistance."