Transport Scotland responds to Kessock Bridge ideas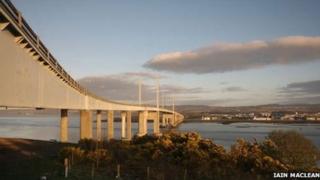 Earlier this month, the BBC Scotland news website published readers' ideas on how to beat disruption caused by months of work to the Kessock Bridge at Inverness. Here government agency Transport Scotland responds to some of those suggestions.
The crossing, which carries the A9 over the Beauly Firth and is used by about 30,000 vehicles every day, will be the focus of resurfacing work from February to June 2013.
Further works are planned from February to June 2014.
Transport Scotland is putting together a £1.8m package of measures aimed at easing congestion, and has put other information on the bridge work on its website.
And it has responded to ideas from the public on how to reduce the risks of disruption:
Park and ride at Tore - suggested by Yvonne, of Culbokie, Black Isle
The construction of a temporary park and ride during the main construction phases was one of the options we considered in our planning for these works.
However, this measure alone would cost around £1m, which is a considerable cost for a temporary measure, especially as it would only really be required at peak times during the main construction phases.
After the works the road will return to normal commuting conditions. The improvements we are making to junctions on the A9 and A82 on the other hand, are permanent improvements, that will provide a long-term benefit for road users for decades to come.
Kessock Ferry - Gordon Anderson, Canada, and Donald Elliot, London
Reinstating the Kessock Ferry temporarily was another option we considered, but we soon realised that this would not be able to provide sufficient capacity to take much pressure off the road network.
Another factor in ruling this out was getting to and from the ports - delays on the A9 would make it difficult to get to the port at North Kessock and there would be issues with connections for commuters.
Cycling - Karin Forbes, of Cullicudden, and Transition Black Isle
It is encouraging to hear from the reader who said her partner started cycling when parts of the bridge were closed for emergency repairs last year.
Active travel is very much a priority for the Scottish government and options for cyclists travelling into Inverness during and after these works has been a key consideration for us.
During the works, one of the two dedicated paths for cyclists and pedestrians will remain open at all times so there will always be a way for cyclists to get across the bridge.
The main works to the bridge will include the resurfacing of both cycle paths as well as the installation of new additional higher parapet rails.
We will also be spending thousands improving the paths approaching the bridge, including clearing the paths and some resurfacing. We will continue to liaise with Transition Black Isle to ensure cyclists are well catered for while these works are ongoing.
Carrying out works at night - Donald Elliot, London
This is a substantial project to bring the Kessock Bridge up to modern standards and ensure its longevity.
The nature and scope of the works to be carried out means there is no way we could do the work at night and have the lanes reopened again in the morning - this work requires one carriageway to be closed full-time for each phase of works.
While there will inevitably be disruption, this will ensure we get the job done, minimising the need for future repairs and road works.
Hump-like bridge over road works - Murray Welsh, Austria
We are absolutely committed to minimising the disruption which these essential repairs to Kessock Bridge will cause and have explored various ways of doing this.
We have used temporary bridge techniques when carrying out works on smaller bridges in Scotland.
But the Kessock Bridge is an estuary crossing, measuring more than 1,000m long, so constructing a temporary crossing would cost millions.
We are making better use of that money by investing it in long-term improvements of the bridge itself and to surrounding roads.