Deer stalking demand and prices high, say Savills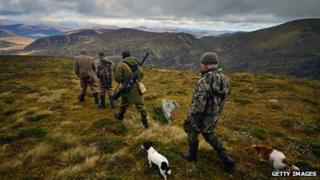 Both demand and prices for deer stalking on Scottish sporting estates managed by Savills have risen, according to the property firm.
The company said the pursuit was continuing to be popular even in times of economic troubles.
Over the last five years, prices for taking red deer on estates deemed easy to reach had risen by 5%. On one estate the price for a stag was now £400.
On more remote estates, Savills said there had been a 21% rise in prices.
The firm, which manages 500,000 acres (202,343ha) in Scotland, said demand for deer stalking from overseas clients, and also women, was high.