Scared Dutch offered Highland cattle classes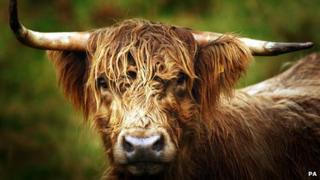 The arrival of Highland cattle on dunes in north Holland so unsettled some walkers using the area that classes on the livestock are now being offered.
The herd, known as a fold, was brought in by a Dutch water company to help prevent the dunes becoming overgrown.
However, the sight of the shaggy, large horned beasts had frightened some people who walk through the area.
Park ranger Lydia Slijkerman is involved in managing the fold and running the classes.
She told BBC Radio Scotland's Call Kaye programme the cattle had fitted in well with their new environment.
Ms Slijkerman said: "They are very beautiful with their long, thick flowing coat of red hair and majestic sweeping horns."
But she added: "Some people are very scared of them. We have a lot of visitors to the area and people want to walk through or around the herd."
The classes provide people with information on the livestock, and also advice on how they should keep a distance away from the cattle and keep dogs on leads.
Ms Slijkerman added: "People are asked not to run through the animals and also to gently let them know that they are there, that you have arrived at where they are."