New Number 4 Gully and Coire Leis cairns on Ben Nevis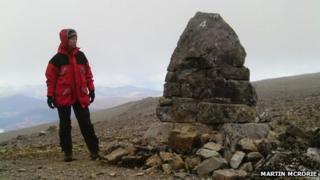 Work has been completed on the construction of two new cairns on the UK's highest mountain.
The Coire Leis cairn was built to act as a navigation marker for the descent line into Coire Leis on Ben Nevis.
The new Number Four Gully cairn was also constructed as a navigational aid for climbers.
It replaces an older cairn, the base of which has been left after ecologists identified rare plants growing around the stones.
Landscape charity, the John Muir Trust, commissioned the new cairns following public consultation.