Highland school wind turbine safety reviewed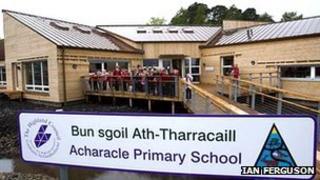 A risk assessment of wind turbines at schools in the Highlands has been completed.
Highland Council had the devices turned off in May after worries about safety were raised by councillors and members of the public.
The local authority said the review suggested the turbines could operate safely in winds gusting to 134mph.
However, the council has decided to have them turned off in 100mph conditions.
Twelve schools are to get better security fencing, turbine servicing and staff training in the operation of the devices.
Primary schools among the 12 are Bower, Castletown, Crossroads, Pultneytown, South, Stoer, Hilton of Cadboll, Inver and Acharacle.
The secondary schools are Dornoch, Gairloch and Culloden.
Public concerns
Turbines at Holm Primary in Inverness, Rosehall Primary in Sutherland and Eigg Primary in the Small Isles were found to have poor energy performances and will be removed.
A device at Craighill Primary in Tain was assessed to be poorly sited and will be moved to another location.
The turbine for Scoraig Primary in Wester Ross was considered to be in a remote and safe position and it was switched back on over the summer.
Steve Barron, depute chief executive, said the local authority had acted on public concerns.
He said: "There has been a great deal of interest and some concern about the planning and installation of wind turbines on school sites.
"As a result of this, we commenced a review of the risk assessment process and the installations of wind turbines at council schools.
"That review has focused on reports from the Building Research Establishment which provided a risk assessment tool and independent assessments for each school site."