Men treated after cyanide poisoning alert on Lewis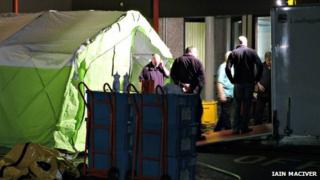 Two men have been treated for suspected cyanide poisoning after one of them accidentally opened a tin thought to have contained the deadly poison.
Two female paramedics who treated the pair have also been decontaminated in hospital after the incident at Uig Lodge on the west side of Lewis.
The poison is understood to have been in storage and was for pest control.
Northern Constabulary were called to the private estate in Timsgarry at about 19:20 on Wednesday.
All four people involved in the incident have now been released from hospital. Uig Lodge has been declared safe following an assessment by firefighters.
It is understood that the estate's owner was using a vacuum cleaner to shrink wrap the tin in a plastic bag. The tin opened and the powder was blown into the air by the cleaner.
The man tried to get help at the local GP's surgery but it was shut, and a friend who was concerned for his health started to drive him to hospital in Stornoway.
However, their car was intercepted by police and a roadside decontamination unit was set up.
The men were then taken to the Western Isles Hospital in Stornoway where they and the paramedics were decontaminated.
Northern Constabulary said it was investigating the incident and trying to confirm what the powder was.
A police spokeswoman said: "The A858 was closed for a short period whilst the decontamination process took place by Highlands and Islands Fire and Rescue Service.
"It was re-opened around 10pm and HIRFS then carried out an assessment of the property where the incident occurred. The area has now been declared safe."
She added: "The incident involved a number of agencies working together and there is no further risk to the any members of the public. The matter has been reported to the Health and Safety Executive and environmental health."