Knowledge of Caithness and Sutherland Flow Country shared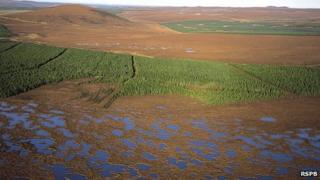 Researchers have been gathering in Thurso to share their knowledge of the Flow Country peatlands of Caithness and Sutherland.
The three-day conference has been highlighting the role the large area plays in providing habitat for wildlife and regulating water quality.
The Flow Country peat is also important as a store for thousands of tonnes of carbon.
RSPB Scotland, which as a reserve in the area, and UHI are involved.
Norrie Russell, Forsinard Flow Reserve manager, said there was now greater recognition of efforts to protect blanket bogs and deep peat soils.
He said: "The Flows contain the single largest concentration of carbon anywhere on land in the UK, as well as having internationally important habitat and wildlife living across it and in the rivers that flow from it.
"With pressure mounting to combat climate change, the need to have good research to inform integrated land management practice will be crucial."
Prof Stuart Gibb, director of North Highland College UHI's Environmental Research Institute, said the north of Scotland's peatland was globally important.
He said the area had vast environmental, conservation and economic value.
Prof Gibb added: "However, we lack an integrated, holistic understanding of peatland function.
"At this unique conference we will launch our vision for a Peatland Research Hub.
"This will seek to establish the Flow Country as a UK focal point of peatland science addressing contemporary environmental and societal issues such as climate change, biodiversity, resource management and sustainability."