Work begins on Inverness River Ness flood scheme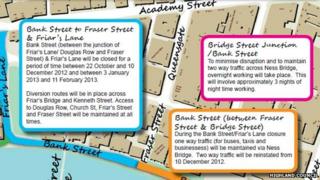 Highland Council has said every effort will be made to keep disruption to a minimum during the construction of a new flood protection scheme.
Preparation work for the £21m development covering the tidal section of the River Ness in Inverness started on Monday.
Bank Street has been closed to allow water and gas mains, and electricity and telephone cables, to be moved.
Construction of the flood defences will start next year.
Neil Gillies, Highland Council's director of transport, environmental and community services, said there would be disruption.
He said: "We apologise to the public for that. It is one of the inevitable things of carrying out work like this in the city centre."
Mr Gillies said the project would lead to improved defences against flooding and also enhance the city centre bank of the river.
He said: "Overall to have this flood scheme starting in Inverness is really good for the city.
"We will see the riverside very much enhanced on that side, not just the flood scheme, but there is money available being made through Highland Council and Inverness Common Good Fund to carry out streetscape works."
Last month, Highland Council published details on how traffic will be diverted during the first stage of constructing the River Ness Flood Alleviation Scheme.
Some streets will temporarily become one way systems and others will have parking restrictions.
Affected areas include Bank Street, Huntly Street and Friar's Street.
The work will include the building of walls on both sides of the river between Ness Bridge and Friar's Bridge.
The full scheme - which has been designed to protect about 800 homes and 200 businesses in the city centre - is likely to take until April 2015 to complete.
The Scottish government will fund 80% of the cost of the building work.
Some of the diversions and parking restrictions will be in place until the end of the year, but others will remain until the project is finished.
Highland Council has produced a map showing the restrictions.