Spean Bridge Commando Memorial expanded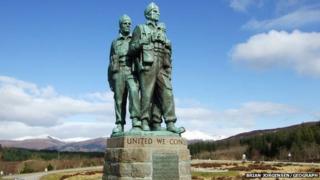 The site of a military memorial in the Highlands has been expanded because so many tributes are being laid and ashes scattered there.
The Commando Memorial at Spean Bridge is dedicated to those who trained in the area during World War II.
A nearby garden honours personnel killed in conflicts, including operations in Afghanistan and Iraq.
The Commando Veterans Association alerted Highland Council to increasing pressure on the site.
Council officers had recommended that the local authority, which owns and maintains the site, spend £25,000 on upgrading and expanding the garden.
The final cost of the work, which has now been completed, ran to £31,001.
The Commando Memorial overlooks the Great Glen and the hills, glens and moorland where soldiers trained for missions during World War II.
Members of Winston Churchill's "secret army", the Special Operations Executive (SOE), were also believed to have trained in Lochaber.
Inverailort House was taken over by the military in 1940 for use as an SOE training base.
Churchill ordered SOE agents to "set Europe ablaze" with daring assassination and sabotage missions.
The Commando Veterans Association represents servicemen and women who have served with the Royal Marines and with commando forces from their inception in 1940.