How might commuters avoid Kessock Bridge congestion?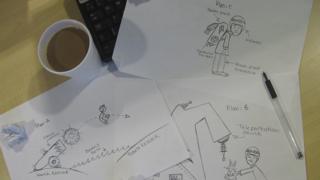 Major travel disruption is expected during road works on the Kessock Bridge. We are looking for your imaginative suggestions of how to beat the congestion.
The Kessock Bridge carries the A9 trunk road across the Beauly Firth close to Inverness.
About 30,000 vehicles use the crossing every day, according to Transport Scotland.
The agency is warning motorists to expect significant disruption during resurfacing work planned for February and June 2013. Further works are planned from February to June 2014.
While the bridge will not be closed completely to traffic, Transport Scotland hope commuters will make greater use of public transport to help minimise congestion.
Extra bus services are planned, with a lane on the bridge made available to buses and HGVs only.
More carriages will also be added to train services that travel along the southern shores of the Beauly Firth. Conon Bridge, a station on the route that was closed in 1960, will be reopened before the resurfacing work starts.
When emergency repairs were carried out to the Kessock Bridge in 2011, flexible working hours were encouraged to avoid peak travel times. Commuters were also praised for car sharing and working from home, which helped to reduce traffic volume.
But what other ways might commuters avoid the disruption?
The BBC Scotland news website is looking for your practical or humorous solutions by Monday morning for a feature story. Send ideas, with your full name and where you are from, to newsonlinescotland@bbc.co.uk - and mark your email Kessock Bridge.