Kessock Bridge roadworks: £1.8m plan to ease disruption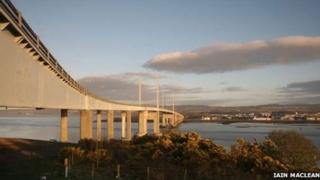 Transport Scotland has announced a £1.8m package of measures to help ease travel disruption caused by roadworks on a bridge on the A9.
Resurfacing work will take place on the Kessock Bridge at Inverness between February and June 2013. Further works are planned from February to June 2014.
The measures will include road junction upgrades and extra seating capacity on public transport.
Conon Bridge railway station in Ross-shire will also be reopened.
Transport Scotland said it was "absolutely committed" to minimising disruption during the works.
A lane of carriageway will be shut at a time, but the bridge will not be completely closed to traffic.
The Kessock Bridge, which opened to traffic in 1982, carries the A9 dual carriageway trunk road across the Beauly Firth.
Transport Scotland said about 30,000 vehicles used the bridge every day, with 11% of the traffic made up of heavy goods vehicles.
The package of measures to ease congestion include:
New traffic lights and a new dedicated left hand turn slip lane on the Longman Roundabout. Work starts on Monday on the site and on making improvements to other nearby junctions and the Rose Street Roundabout.
Work is also due to begin within in the next few weeks on Conon Bridge Station, which has been shut since 1960. Transport Scotland said will be re-opened before the Kessock Bridge repairs begin in February.
Peak-time train services to and from Inverness will be doubled in capacity from two carriages to four. Stagecoach is developing a timetable of additional bus services to and from the Black Isle.
A dedicated bus and HGV lane will be put in place on the A9 south running from Tore Roundabout to Kessock Bridge.
Transport Scotland said: "Improvements to junctions on the approach to the bridge will make a difference, but it is also essential that we encourage motorists out of their cars and on to public transport and the additional train and bus capacity agreed with Stagecoach and First ScotRail will allow for this.
"Additional car parking at Dingwall and Beauly stations will also give commuters the option of driving part of the way, but avoiding the worst of the congestion.
"We all have a part to play and I would encourage both individuals and employers to start thinking about what they can be doing to avoid driving into Inverness during peak times."