Inverness war memorial names to be updated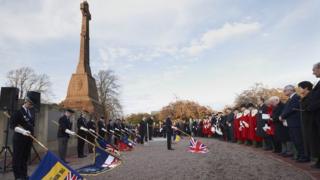 Names of military personnel killed in conflicts since 1945 are to be added to a world wars memorial in Inverness.
The new plaque for the Cavell Gardens monument will be unveiled on 3 November.
Royal British Legion Scotland's Inverness Branch and Highland Council had asked families in the city and surrounding area to provide details.
Conflicts since 1945 include the Korean and Falkland wars and operations in Iraq and Afghanistan.
The plaque will be dedicated at a short service conducted by RBLS padre the Reverend Alistair Murray.
The war memorial on a bank of the River Ness recalls those killed in the two world wars.
With a 10m (33ft) high red sandstone Celtic cross, the memorial was unveiled in 1922.
Highland Council is responsible for 165 war memorials.
Refurbish work is to be done to those dedicated to World War I to make sure they are in a state fit to mark the centenary of the start of the conflict.
In a report to Highland councillors last month, officers said there was a desire to begin repair work well before the anniversary in 2014.
Re-lettering names on memorials is expected to be the most common work that will need to be done.
Lists of names on the Highland monuments can run to a handful in some places to covering eight plaques in others.