Bid to ease pressure on UK's highest mountain Ben Nevis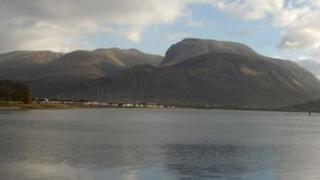 Paths on and around Ben Nevis are to be improved as part of a new effort to protect the UK's highest mountain.
Money from a £4m funding package announced in the summer will be used to pay for repairs to the lower sections of the main route to the summit.
Some cash will also be spent on expanding a paths network in Glen Nevis.
New body the Nevis Landscape Partnership will help to co-ordinate the work.
In the new edition of its magazine, where the path improvement work has been reported, Scottish Natural Heritage (SNH) said 200,000 walkers visit the mountain every year making it Scotland's busiest peak.
Large walking groups have to use a booking system to secure times for treks to the summit.
SNH said in the magazine the new effort to look after the mountain also included biodiversity projects.
Greater protection is to be be given to fish spawning grounds, improving habitats for water voles and red squirrels and an action plan for the area's rare plant species.