Wick airport officially renamed as Wick John O'Groats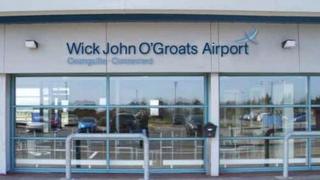 Wick Airport is to be officially renamed Wick John O'Groats Airport to mark its proximity to the UK's most northerly mainland settlement.
The move, suggested by the airport's consultative committee, will see extensive rebranding of its signage and website.
Wick handled 28,876 passengers and 4,976 flights in 2011/2012.
Operator HIAL has said it is in discussion with airlines on possible new routes from Wick.
It claimed a multi-million pound redevelopment of John O'Groats is likely to boost potential demand for transport to the area.
Managing director of HIAL, Inglis Lyon, said: "John O'Groats is one of the UK's most famous landmarks and it makes perfect sense to incorporate the village in the airport's name.
"There are fantastic opportunities ahead for Caithness as a result of the ongoing transformation of John O'Groats into a world class tourist attraction, and we hope that this move will help support efforts to promote the town and wider region as an inbound tourist destination."
Iconic name
The airport will officially take its new name in a ceremony on Thursday.
The move has been welcomed by local businesses.
Trudy Morris, chief executive of Caithness Chamber of Commerce, said: "John O'Groats is an iconic name and the consultative committee saw the immense potential of promoting both Caithness and the airport by incorporating this into the airport name.
"The airport is a fantastic asset to this area and it will play an important role in future developments and opportunities afforded by both the tourism and renewables industries."
Scheduled flights operate from Wick to Aberdeen and Edinburgh.