Image of court escape prisoner Michael Davidson issued by police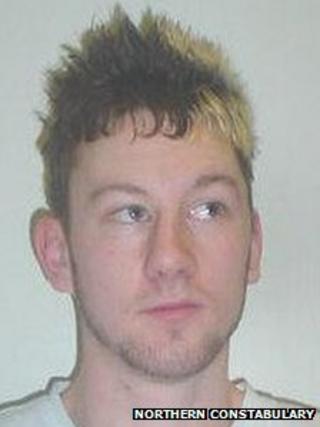 A photograph has been released of a remand prisoner who is being sought by police after he escaped through the window of a court in the Highlands.
Michael Davidson, 27, of Invergordon, had been appearing at Tain Sheriff Court on Tuesday.
However, he escaped through a window during a meeting with his solicitor and left the court premises.
Police said Mr Davidson was not regarded as dangerous, but urged the public not to approach him.
Mr Davidson had been appearing in court on a number of charges, including assault, careless driving and attempting to defeat the ends of justice. He had been remanded.
A police spokesman said it was thought that he may be in the Wick area.
"Whilst he is not regarded as dangerous, Northern Constabulary say that if seen, he should not be approached and the police should be alerted immediately," he said.
"Anyone who knows of his whereabouts or has seen Mr Davidson is urged to contact police."