HEROtsc closes Aviemore call centre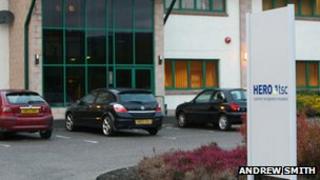 An Aviemore-based call centre is to close with the loss of 85 jobs, its management has confirmed.
It comes after HEROtsc, which operates the centre, lost its contract with HSBC earlier this year.
HEROtsc said it had no option but to close the centre on Friday after being unable to secure new work.
Chief executive officer David Turner said it was a "black day" for Aviemore, and paid tribute to the "loyalty, commitment and dignity" of staff.
Mr Turner said: "Since HSBC informed us of their intention to move their contract with us elsewhere, we have been working tirelessly to try and find an alternative customer
"Despite our efforts and the help provided to us by HIE, we have been unsuccessful in sourcing a new client. I am immensely saddened that we couldn't bring new work here.
"What is particularly galling is the fact that we came very close to finding a new client for here but, in the final stages of negotiations, they chose to go to another company with a city centre location - very frustrating."
He said the firm, which is based at Larbert, near Falkirk, had been preparing staff for the worst and helping them to search for new employment even while it was looking for a new client.
"Deep down there was always the hope something might turn up but, unfortunately, we must now face reality and accept that isn't going to happen", Mr Turner added.
"The loyalty, commitment and dignity shown by our colleagues during what has been an incredibly difficult few months, has been a real inspiration.
"My hope is that all of these talented and skilled individuals will find new employment quickly.
"It is devastating that a state of the art customer management centre, with a strong team of dedicated professionals, is now being lost to the sector."
It is understood about half of the staff affected have already found new employment, or have opted to go back into education.