Community ownership mooted for Tanera Mor in Wester Ross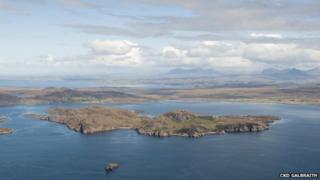 A community buyout of the largest island in the Summer Isles archipelago is being considered.
The owners of 800-acre (323.7ha) Tanera Mor in Wester Ross have been discussing the move with the local community living on the mainland nearby.
Lizzie and Richard Williams, Tanera Mor's two residents, took on the island from Lizzie's family, the Wilders.
The Wilders bough the island in 1996 after selling their dairy farm in Wiltshire.
Mrs Williams she had spent many happy years calling the island home.
She said: "It is time for someone else to have the privilege of working and living in this amazing place.
"We wanted to be proactive and have had open talks with the local community about the possibility of them taking over Tanera. If there is a genuine desire amongst them to do so we would be very pleased."
Mrs Williams added: "If the community decide not to proceed Tanera will be offered on the open market, most likely in the spring of 2013."
John Bound, of CKD Galbraith in Inverness, said the local community had not formally registered an interest in buying the island.
He added: "The family want to be totally transparent about their plans and give the local community the option to buy it should they so wish."
Occupied since the Viking times, Tanera Mor has a cafe and post office.
Community ownership of land has been a hot topic in recent weeks.
Land Action Scotland - a new network of land rights activists - has been gathering support to its efforts to give people living in Applecross and Bute a greater say on the charitable trusts that own the land.
Last week, it was suggested the island of Easdale - venue of the World Stone Skimming Championships - near Oban in Argyll could be taken over by the local community.
Meanwhile, a cluster of small islands in the Inner Hebrides are being sold on the open market.
Eilean Mor and Cairns of Coll extend to just over 50 acres (20ha).