Highland nightclub curfew cuts violence, police say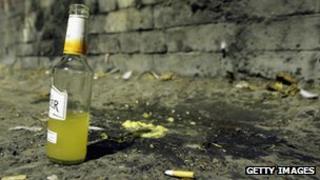 A requirement for Highland nightclubs to refuse admission to people after midnight has cut late night trouble by almost half in one town, police say.
The curfew was introduced in 2003 as a way of better managing the city centre's night-time economy, policing and easing pressure on taxi ranks.
Highland Council is reviewing its door entry policy.
The police want current rules to remain, but opponents say that they make the Highlands a laughing stock.
Highland Licensing Board members agreed in June that the curfew should be reviewed.
The board last looked at the rules in 2010 after receiving an e-petition from people who wished to see it removed.
However, it remained in place after Northern Constabulary and the City Centre Pub Watch argued in favour of it.
For the latest review, Highland Council sought views from organisations and the public.
Of the 50 responses received, 36 respondents supported removal of, or changes to, the curfew. Thirteen respondents said it should be retained.
Northern Constabulary said late night violence and disorder in Inverness city centre had dropped by more than 30% - equating to 2,623 fewer cases - since 2003.
Incidents in Thurso had fallen from 680 cases to 369 - a 45.7% reduction - the force said.
NHS Highland, some venue owners and individuals have also supported the rules.
However, Ban the Curfew Campaign said the curfew allowed police to "corral" people in venues, and the rules had also led to a 03:00 rush for taxis which caused tensions at city centre ranks.
The campaign said it had also heard of incidents where young women who had missed the nightclub entry deadline then walking home alone.
Some individual respondents said the curfew had made Inverness a laughing stock.
Council officers have recommended that Highland Licensing Board meeting on 2 October defer consideration of the responses until a special meeting of the board on 29 October.