Scottish wildcat captive breeding suggested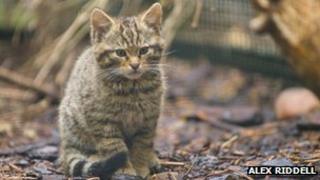 Captive breeding has been suggested as a way of boosting populations of Scottish wildcats.
Disease and inter-breeding with feral cats have reduced numbers.
The Cairngorms Wildcat Project estimates there to be 150 breeding pairs left, but the Scottish Wildcat Association fears only 35 cats remain.
A breeding programme and relocating cats to safer habitats were suggested at the first meeting the Scottish Wildcat Conservation Action Group.
The group includes representatives from Scottish Natural Heritage, Scottish Wildcat Association, Royal Zoological Society of Scotland; Scottish Gamekeepers Association, University of Oxford and others.
Those at the meeting agreed that the first course of action should be to gather more information on the mammals.