Proposals to close sheriff courts across Scotland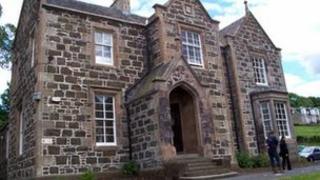 Proposed reforms of Scotland's court service could see sheriff and justice of the peace courts across the country closed.
Buildings in Alloa, Arbroath, Cupar, Dingwall, Dornoch, Duns, Haddington, Kirkcudbright, Peebles, Rothesay and Stonehaven have been earmarked.
High Court sittings in Inverness could also cease under the plans, which have been put out for consultation.
The Scottish Court Service (SCS) said a new structure was needed.
Where courts were closed the business would be handled by courts in neighbouring towns and cities.
The sites that could take on the additional work include those in Tain, Jedburgh, Dumfries, Edinburgh and Greenock.
Dedicated High Court centres could be established in Edinburgh, Glasgow and Aberdeen, but not Inverness.
When additional capacity was required it has been proposed that that be handled by courts in Greenock, Paisley, Dumbarton, Livingston and Dunfermline.
Under the plans, sheriff and jury business would continue in Inverness.
Courts at Lerwick, Kirkwall, Stornoway, Lochmaddy and Portree would continue to hear all business within the jurisdiction of a sheriff.
'Victorian times'
Justice of the peace courts at Annan, Coatbridge, Cumbernauld, Irvine, Motherwell, Portree, Stornoway and Wick could end and the business transferred.
Eric McQueen, SCS executive director, said a structure was needed that was accessible for people and with the facilities and services that the public would expect.
He said: "With greater levels of specialisation expected to result from the justice reforms, we anticipate the most serious types of business being heard in fewer locations.
"Many of our court buildings were built in Victorian times and are both expensive to maintain and difficult to adapt to modern needs.
"Fewer court buildings would allow SCS to target future investment to ensure that the best possible facilities and level of service is available for all court users but more particularly for victims, witnesses, and vulnerable people."
Mr McQueen said it was accepted that having fewer court buildings would mean longer distances to travel for some people.