Highland Council to remove 'no overnight parking' signs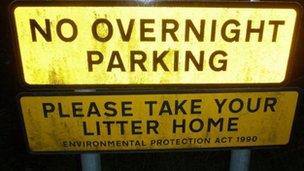 Highland Council will remove "no overnight parking" signs from lay-bys that it has responsibility.
Transport Scotland has already committed to removing 50 notices from trunk roads.
Andy Strangeway, from East Yorkshire, a regular visitor to the Highlands and Islands, started lobbying for the signs to be removed last year.
The adventurer has argued that drivers should be allowed to pull over and rest in roadside lay-bys.
In 2007, Mr Strangeway completed an attempt to sleep on all of Scotland's 162 islands, which are 98.8 acres (40 ha) or larger.
The 'no overnight parking' signs are thought to date from the 1990s.
Highland Council officers said they were put up to to discourage overnight parking of caravans and motor caravans in rural lay-bys where there were no facilities for the disposal of waste.
It said the signs had also been intended to support the local economy by encouraging tourists to make use of the commercially operated caravan sites in the region.
The local authority said the signs were "advisory" and it had never made any efforts to enforce the message they carried.
The transport, environmental and community services committee voted 12 to eight on Thursday in favour of removing the notices.
Related Internet Links
The BBC is not responsible for the content of external sites.