Highland councillors vote 17-3 in favour of Tornagrain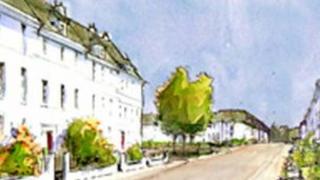 A Highland Council committee has voted in favour of plans for a new town that caused a row at an earlier meeting.
Last month, Highland Council's south planning applications committee approved the 4,960-home proposal without the matter going to a vote.
Officers told councillors that there were no sound legal grounds to oppose the plan for Tornagrain, near Nairn.
The planning, environment and development committee voted 17 to three in favour of the project.
The project has already been approved in the Highland-wide development plan.
Several councillors, upset by what happened at August's meeting, pushed for the developer's application for outline planning permission to be re-examined.
The scheme was brought before Wednesday's planning, environment and development committee for a debate.
After seeking legal advice, councillors voted on the project.
Developer Moray Estates Development Company Ltd expects that the new town will eventually have a population of about 10,000.
The settlement would grow over 30 to 40 years.
The company first submitted a planning application for the new town in 2009.
The site stands in what is known as the A96 Corridor between Inverness and Nairn.